We proudly present the two Biscuit lines that have delighted past and present generations.
SWEET MOMENTS FOR ALL AGES
Children of the past, today's children
Children have always loved our playful biscuits and treats, like our Play Rolls, Mini Cookies, My Stars Cookies and our gummy fruit jellies.
AN AUTHENTIC AND HAPPY FAMILY
Mums know what to choose to make husbands and kids alike happy, treating them with the softest Madleinettes and Le Delizie, the finest assortment of biscuits.
SWEET COMPANY
In romantic moments the chocolate arancelli are a must. That refined flavour perfectly accompanies the magic of an evening spent with your other half.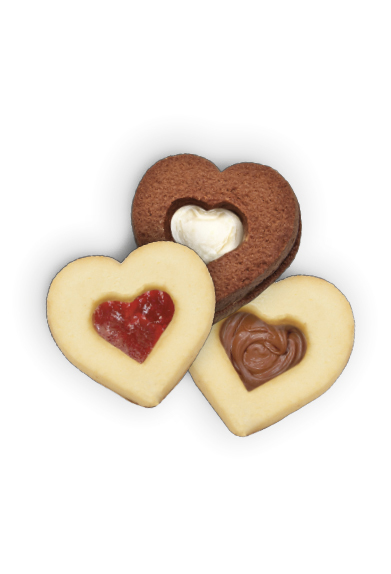 TREAT YOURSELF
In moments of solitude and relax who hasn't treated themselves to a nice packet of chocolate ciokogol! They're very moreish, just like the tasty coffee treats, which you can try with milk.
A MUST FOR GRANDPARENTS
Do you remember going to visit your grandparents and finding the famous blue tin full of delicious Danish cookies, perfect for tea time? And how many mint or aniseed sweets did you get as a gift or a prize?A must!

SHARED MOMENTS IN FRIENDSHIP
Don Carlo's Pastries, Prestige, assorted sweets, Lemon Pastries: all ideal for accompanying pleasant moments with friends, moments of laughter and shared memories.
FOR OVER 60 YEARS THE TRADITION HAS BEEN PASSED ON
Our story is a story of taste, tradition and passion. We've maintained the highest standards since our beginning, keeping up to date with our timeless flavours that never go out of fashion, some flavours are eternal.